Table 1

Amine

Imine
Formation
Time

Imine
Reduction
Time

EtNH2

1 h

0.5

1 h

52%

EtNH2

2 h

0.5

1 h

55%

EtNH2

1 h

1.0

1 h

56%

EtNH2

2 h

1.0

3 h

73%

MeNH2

1 h

0.5

1 h

55%

MeNH2

2 h

0.5

1 h

56%

MeNH2

1 h

1.0

1 h

49%

MeNH2

2 h

1.0

3 h

78%

NaBH4/ketone molar ratio.

Yield of isolated amine HCl salt.
Freifelder stated a long time ago that phenylacetone and aqueous methylamine formed N-methylimine which is hydrogenated to N-methylamphetamine. The wet enviroment doesn't disturb the imine formation. Yet when bees here want to make MDMA they tend to choose anhydrous conditions, in particular in the sodium borohydride reduction of the imine gotten from MDP2P and methylamine.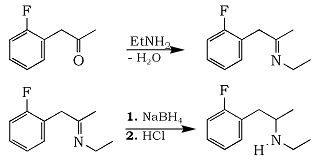 I decided to challenge this, and performed a series of experiments using the legal substrate 1-(2-Fluorophenyl)-2-propanone, with varying reaction conditions.
Variables explored were the ratio between NaBH4 and ketone, different alkylamines and reaction time for imine formation and imine reduction, respectively. The results can be seen in the table, and the procedure used for all experiments is found below.
Procedure
1-(2-Fluorophenyl)-2-propanone (10g, 65mmol) was dissolved in 50ml toluene and to this was added a solution made of Ethylamine HCl (10.6g, 130mmol) and NaOH (5.25g, 130 mmol) in 50ml water. The mixture was vigorously stirred at room temp for 2 hours. The aqueous phase was then removed and the toluene phase was transferred to a 250ml RB flask containing 1.9g NaBH4 (50mmol), 25ml water and 15ml 95% EtOH and the mixture was vigorously stirred for a further 2 hours at room temp. Dilute hydrochloric acid was then added dropwise until pH 2 was reached, the phases was separated and the toluene phase was extracted twice with 20ml 5% HCl and then discarded. The combined aqueous phases was made strongly alkaline with 50% aqueous NaOH and extracted twice with 50ml toluene. The toluene extracts was dried over MgSO4 and stripped of solvent in a rotovap. The residual yellow oil (nasty smell) was dissolved in 50ml EtOAc and dry HCl in IPA added until pH 4 was reached. The white crystals was isolated and dried to constant weight.
Yield: 8.9g (40.9 mmol, 62.9%) of N-Ethyl-1-(2-Fluorophenyl)-2-aminopropane hydrochloride.
Improved "wet" reductive alkylation
Chemicals Used:
1-(2,4-dimethoxyphenyl)-2-propanone (250 mmol, 1 molar equiv.)
Methylamine HCl (375 mmol, 1.5 m.eq.)
NaOH (375 mmol, 1.5 m.eq.)
Sodium Borohydride (145 mmol, 0.58 m.eq.)
Isopropanol (IPA)
Water
Procedure
To a solution of 1-(2,4-dimethoxyphenyl)-2-propanone (48.56g, 250 mmol) in 300 ml IPA was added a solution of methylamine hydrochloride (25.3g, 375 mmol) in 30 ml water followed by dropwise addition of a solution of NaOH (15g, 375 mmol) in 40 ml water during 10 minutes while stirring the mixture violently. When the addition was complete the mixture was stirred for another hour at room temperature.
A solution of sodium borohydride (5.5g, 145 mmol) in 20 ml water containing 25 mg NaOH (to prevent decomposition) was then added dropwise over 30 minutes while the mixture was stirred violently. When addition was complete the stirring was continued for two hours. The residual borohydride was destroyed by addition of 2M hydrochloric acid (1:5 37% HCl:H2O) until gas evolution ceased and pH 3 was reached. The alcohol was removed by distillation in a rotovap and the aqueous solution diluted with 100 ml water, extracted once with 50 ml toluene, made strongly alkaline with 25% aq. NaOH and then extracted with 2x50 ml toluene. The combined alkaline extracts was dried over MgSO4 and the solvent removed by distillation. The residual oil was dissolved in 200 ml EtOAc and 5N HCl/IPA was added in portions until pH 5 was reached. Several times the acid addition had to be stopped and the formed crystals removed by filtration. The salt was then recrystallised in IPA.
Yield: 48.5g 2,4-Dimethoxymethamphetamine HCl (79%).